Barcelona, 30 September 2017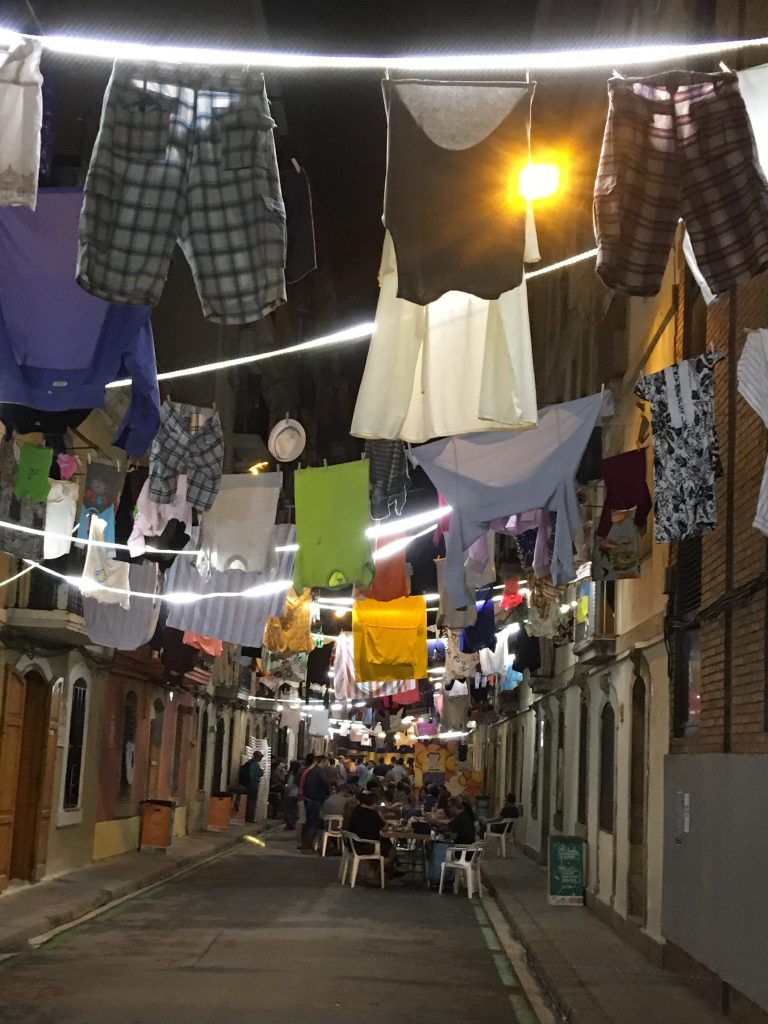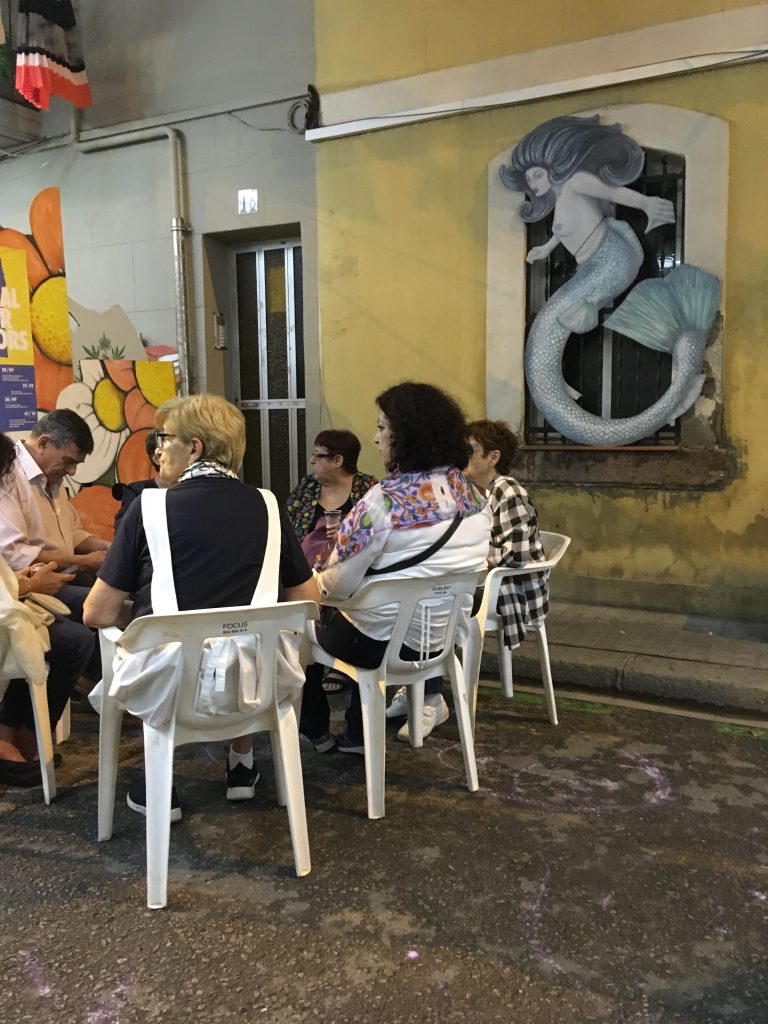 I arrived in Barcelona today. I felt really stupid carrying a hand roller bag with a "revolution" sticker on it. That design was part of the camouflage I used after I had to break the lock to my newly acquired suitcase. I had accidentally binned the key with the wrapping. Before departure, my trusted newspaper (Der Freitag) told me that every sensible person on the left should endorse the independence movement.
There are "si"-banners and Catalonian flags on many balconies, but still not massive. Either they know this is about organization and not campaigning at this point, or the base is simply not that big. Or there is more fear than I understand. In the dark, the banners are entirely swallowed – only the commercials are lit up.
Very much my usual self, I got on the bus in the wrong direction from Placa de Catalunya, and of course only noticed at the final stop, between suburbian highrises. So that gave me a good, two-hour anti-sightseeing round trip. On the way back, again close to the city center, I heard a shouting mob and my first thought was "shit, if that's what they sound like, I might need to reassess my endorsement". But then I saw the Spanish flags wrapped around the young men who were running up the pavement – it was the other side, or rather the extreme end of the other side. One of them literally hit his flagpole on the window of the bus, exactly where I sat.
Good left public spending they have here, proper transport infrastructure and solid glass. Aurélie tells me that some people made fascist salutes on the Madrid anti-independence rally. But nice young activist-looking kids next to me on the bus, calm, following the Spanish nationalist crowd with wide-eyed looks. They might well be anti-independence, too, though in a very different way. Podem, the Catalan version of the left-populist Podemos, is in favour of a referendum but against independence itself.
As soon as I entered Barceloneta, the proletarian, tourist-flooded neighbourhood by the seaside, it was all like a big fun fair. Festive atmosphere. Market stalls, half-installed stages. Not because of tomorrow's referendum but apparently because they already had a festival going for over a week. I had been amazed before about the public space Barcelona provides, but now it's so much more obvious the Barcelonians actually use it. Many more things seemed to be open than in July and August and now there is only a tiny fraction of the tourists left, so it cannot be entirely commercial.
On and off while cooking, Aurélie stepped out onto the balcony. When she heard drums, she started dancing. "There even is a grandmother with a fire display". A small demonstration passed by at the cross-section of our narrow street. I came too late for the fiery elder, but saw a woman in a hijab who pushed a trolley with some tree-sculpture on. No flags. Maybe this really is about something other than nationalism. Apparently, a whole strand of the campaign focuses on wanting "a feminist republic" – it was one of the major points on the leaflet Aurélie received via the university union. A feminist republic – where else?!? And it is always combined with the emphasis of world-openness and an explicit pro-immigration discourse. At the end of the demonstration two street sweepers marched in step, and then came a cute little municipal rubbish van. I remember how bloody Hemmingway wrote that humans were more useless than cats, because the cats at least clean up after themselves while the Spanish anarchists cluttered everything with rubbish. Not these ones, they don't.
Now the drums outside have gone quiet, maybe that is already the preparation for the spoon-and-saucepan-concerto which happens every night now. All domestic life folds outwards onto the balconies. I only hear a faint noise, cutlery clicking on plates. So the quiet is not to do with dramaturgy, it's to do with dinner.
After our own dinner, Aurélie and me made a round through the neighbourhood. We couldn't quite tell whether the local school was squatted, but there definitely were people stepping out of the building at 10pm to take part in the cassolada, the saucepan-concerto. It is so interesting how the politics really are still down to physical space. Google blocked the app which was meant to guide people to the polling stations, but the squatting of schools made a difference to the infrastructure. Aurélie sighed. If only we had a properly distributed alternative information network already. Instead, knowledge access is monopolized not only by Google search, but also by apps that only run on Android, i.e. Google's smart phone operating system.
We then came to one side-street which was blocked off from traffic by portable metal barriers. The street was decorated by washing, hung not from individual balconies but zig-zagging across the street. A colourful canopy, arching a reproducive gathering. Everyone had put chairs and tables outside, there was a temporal communal kitchen. I couldn't take my eyes of a group of elderly women, tough looking, smoking and discussing, sitting in a circle of plastic chairs. Behind them, a large painting was mounted on the wall, showing a bare-breasted mermaid with lots of resolve in her eyes.